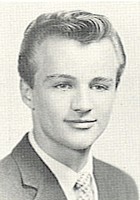 ROBERT R. IEHLE, SR., age 71, died May 21, 2011, in The Villages FL; formerly of Philadelphia PA, member of the Philadelphia Fire Fighterfor 31 yrs. His survivor include his wife, Kathleen; sons, Robert Iehle Jr; Joseph Iehle; daughter Cheryl Townsend; stepchildren, Elizabeth Vasaturo, Jennifer Labenz, Mark Labenz; brother, Norman Iehle; Pop-Pop to Haley, Jesse, Matthew, Andy, Brianna and Taylor. Services will be held Sat., June 4th, at 11 A.M., with a Visitation of family and friends from 10 to 11 A.M. at St. Johns Evangelical Lutheran Church, 505 N York Rd., Hatboro PA 19040.
Family requests donations to Philadelphia Firefighters & Paramedics Survivors Fund, 415 N 5th St., Phila. PA 19123.
Arr. by HIERS-BAXLEY FUNERAL SERVICE of The Villages FL, 352-753-8353.
Published on Philly.com on May 27, 2011