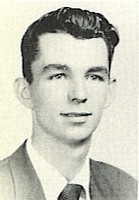 He passed away April 8, 2014 at St Mary Medical Center in Langhorne, He was 76.
Born and raised in Philadelphia he was a resident of Falls Township, PA. since 1963.
He was an electrical inspector for Underwriters Laboratories for many years. He was a huge John Wayne fan and enjoyed working on cars, especially his 1932 Ford truck. He loved all sports, but most especially the Philadelphia Eagles. Chick and Floss had taken many cruises and enjoyed traveling to many different places, including a 50th anniversary celebration to England and France.
He is survived by his wife of 57 years Florence (Shaffer), father of Charles, Michael, Kimberly, and Craig. and a grandfather of eight. He was brother of Pat and Nancy.