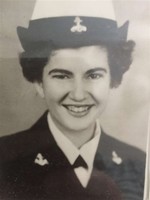 Ms. Murphy, age 79, of Lebanon, passed away Thursday, Feb. 9, 2017. Born July 5, 1937 in Philadelphia, she was the daughter of the late John and Florence (White) Murphy.
She lived most of her life in Kirtland, Ohio, where she raised her family. She proudly served in the United States Navy and was an avid fan of the annual Army vs. Navy football game. Most of all, she was a good person who took care of her family. She loved spending time with them and encouraged all of her children to be ardent readers.
She is survived by her daughter, Jeanne; and sons, Steve, John, Patrick, Thomas, Michael and Bob.