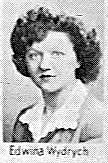 Edwina passed away February 21, 2014 peacefully at her grandson's home in Bensalem, surrounded by her family. She was 85.
She was the beloved wife of Aladino R. Vittoriano for 65 years.
For 22 years she was a communications police operator for the Pennsylvania State Police, Troup M. in Trevose.
She loved animals and was a conservationist.